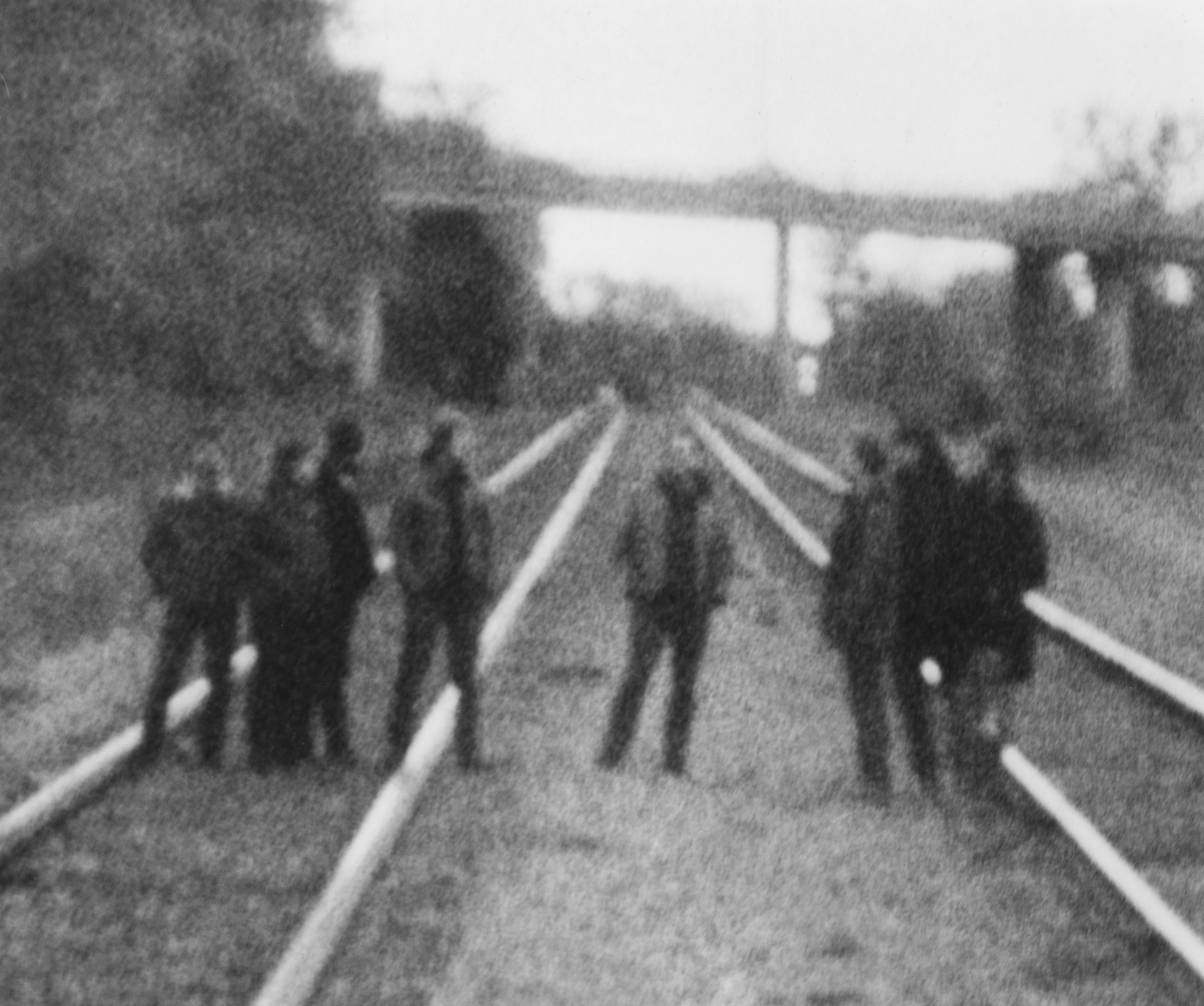 Godspeed You! Black Emperor
Godspeed You! Black Emperor began with Efrim Menuck, Mauro Pezzente and Mike Moya in Montreal in the early 90s, playing a handful of shows and recording a self-released cassette as a trio before beginning to transform the group into a large band.
Recruiting numerous Montreal musicians through 1995-1996, GYBE mounted sense-rattling wall-of-sound performances, featuring as many as 14 musicians and several 16mm film projectors, eventually self-recording their debut vinyl-only version of F#A#∞, released on Constellation in late summer 1997. The band's Hotel2Tango warehouse space in Montreal's Mile-End district was a central hive of DIY activity, with band rehearsal rooms, silkscreen and wood shops, and weekend shows that took place under the radar.

The group settled into a permanent nine-member line-up by late 1998, with Aidan Girt and Bruce Cawdron on drums, Thierry Amar and Mauro on basses, Efrim, Dave Bryant and Roger Tellier-Craig on guitars, and Norsola Johnson and Sophie Trudeau on cello and violin respectively.
The band toured and recorded continuously from 1998-2002 and gained a reputation for mesmerising live shows marked by orchestral dynamics, epic rock power and clunky, beautiful film loops. Following hundreds of concerts and the release of four records ? F#A#∞ (1997), Slow Riot For New Zero Kanada EP (1999), and the double albums Lift Your Skinny Fists Like Antennas To Heaven (2000) and Yanqui U.X.O. (2002), GYBE went on hiatus in 2003.

Various GYBE offshoots continued with their own momentum through the 2000s, most notably The Silver Mt Zion Memorial Orchestra and Tra-La-La Band (including Efrim, Sophie and Thierry), Hrsta (led by Moya), Fly Pan Am (featuring Roger), Esmerine (co-founded by Bruce), 1-Speed Bike (Aidan's solo punk-techno project) and Set Fire To Flames (led by Dave, and including Bruce, Moya, Roger and Sophie).

Godspeed returned to live performance in December 2010, when the band was invited to curate and perform at All Tomorrow's Parties in the UK.
This was followed by renewed and extensive international touring. October 2012 saw the release of 'ALLELUJAH! DON'T BEND! ASCEND!, their first recorded work in a decade, to near-unanimous critical acclaim, including a 9.3 rating and Best New Music at Pitchfork and the appearance on countless year-end lists. The similarly praised 'Asunder, Sweet And Other Distress' followed in March 2015; this album marked the group's first personnel change in many years, with Tim Herzog replacing Bruce on drums.
An array of analog film projectors remains central to Godspeed's live performances. As the band ended its 'post-hiatus' period, experimental filmmaker Karl Lemieux was the band's primary creator (and projectionist) of 16mm film footage and loops. In 2015, he began sharing those duties with Philippe Leonard.

Godspeed collaborated with Holy Body Tattoo on monumental in 2016-2017, performing live to the acclaimed contemporary dance piece in various cities around the world.
The band also premiered new work commissioned to memorialize the 100th anniversary of the WWI Battle of Messines at a live concert event on the site of the massacre at Heuvelland, Belgium in June 2017.

Godspeed You! Black Emperor announced their third post-reunion album (and seventh record overall) Luciferian Towers in early August, with a 22 September 2017 release date.